The Cloudy Crystal Ball of NYC Politics
Josh Marshall
New York City held its mayoral primaries yesterday. Republicans nominated 70s/80s throwback Curtis Sliwa, a choice that is likely to have zero impact on the final choice of the next mayor. The real battle took place within the Democratic primary. The winner of the primary and what it means for a run off won't be clear until mid-July – an almost absurd result of the confluence of ranked choice voting, which is being used for the first time in the city, and generous absentee ballot rules. But the clear leader so far is Eric Adams, a retired police captain who is currently the Brooklyn Borough President. The current results are Adams 32%, Maya Wiley 22%, Kathryn Garcia 20% and Andrew Yang 12%.
Adams is black. He ran on a pro-police, pro-law enforcement platform. Polls suggest his key bases of support were black voters, voters without a college education and voters who don't reside in Manhattan. He had strong support among the city's unions and is in many ways a traditional machine politician.
Read More
| DC
John McAfee wants you to know he's dead serious about running for President.
You'd be forgiven for being skeptical. McAfee, who describes himself as an "eccentric millionaire," made a killing in the early '90s when he departed from his namesake anti-virus software company. Since 2012, McAfee has mostly made headlines for his action-movie-like exploits in Central America, where he was wanted for questioning (not as a suspect) by Belizean police in the murder of his neighbor. So when his presidential campaign came out of nowhere this week, it felt like a stunt at least in part.
Read More
| News
Before Texas filed a lawsuit that asked the Supreme Court to block President Biden's win in four battleground states, a draft of the petition was circulated to the Louisiana attorney general's office.
Read More
| News
Nearly three months after the head of Michigan's Republican Party unveiled an audacious plan that would allow GOP legislators to circumvent the state's Democratic governor's veto to pass restrictive voting laws, the contours of the scheme remain murky.
Read More
| Muckraker
Over the past two months of infrastructure talks, there's been a constant refrain from Republican negotiators: why not just use all the unspent COVID aid money to pay for the bill?
Read More
| Cafe
As a lifelong novel consumer who enjoys throwing myself into other worlds for hours on end, it probably won't come as a surprise that I don't read too many short stories.
Read More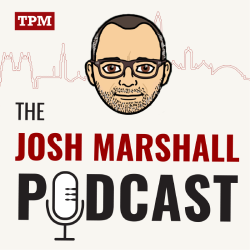 Ep. 178: The Fight Against Despondency
Josh and Kate discuss the Republican filibuster of even starting debate on Democrats' major voting rights bill, and game out the path forward for democracy ...